The Bush Family and their illuminati Rituals--data dump
**********************************************************
Olympic Torch symbolism (Dec.21-22, 2001)-- by James Whisler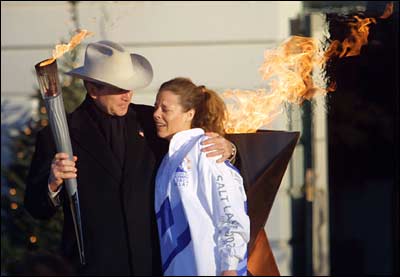 Pictured above: Luciferian George W. Bush, participating in the Olympic ceremony on the Winter Solstice, is standing next to the cauldron (symbolizing the craft), accepting the torch (which signifies illumination of the ancient mysteries) from an Olympic runner. He is dressed in the traditional Masonic contrasting colors of black and white which represents their gnostic dualistic worldview. The torch he is holding is 33 inches long, a number obviously sacred to freemasonry; and is designed as an icicle. The simulated icicle is joined to the flame to help create one of this year's themes for the torch which is "Land of Contrast -- Fire and Ice" The ceremony strategically took place on the South Whitehouse lawn, in the presence of the phallus of Osiris, the god who traditionally dies every winter solstice and is reborn on Christmas as Horus (Tammuz, Zeus, etc). After the above torch ceremony, Bush and his wife joined his parents and daughters at Camp David, presumably for a secret satanic solstice ritual.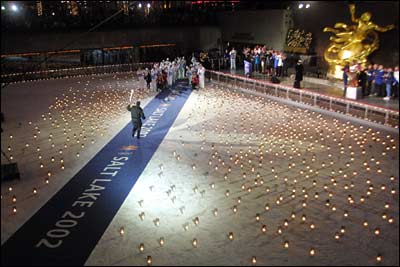 To occultists there is a sacredness in the unity of fire with ice. In addition to the Olympic torch, it is also symbolized every winter at Rockefeller Center where the statue of Prometheus (pictured above), the legendary figure who stole fire from the gods, overlooks an ice skating rink. Mayor Rudy Giuliani officiated for the torch ceremony at this sacred site in NY the day after Bush lit the torch in D.C.. Rudy also received TIME Magazine's Person of the Year award the same day he lit the torch. TIME attributed him as the one man to bring order out of chaos to New York after the WTC disaster. I honestly don't know how they can get any more blatant in their satanic symbolism.
**********************************************************
(the following submitted by Stew Webb)
NEWS RELEASE
December 21, 2001
WINTER SOLSTICE---KNIGHT'S TEMPLARS
BUSH'S DOING SATANIC WORSHIP
"TIFFANY LAMP MEETINGS"
SEDALIA, COLORADO 12-21-2001---12-22-2001
KIMBALL CASTLE, SEDALIA, COLORADO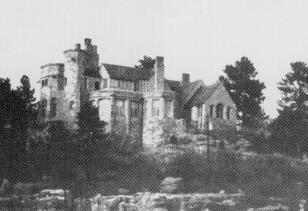 To Whom It May Concern:
June 22nd and December 21st each year, Satanist, perform Human Sacrifices as part of their Satanic rituals. These are known as the "Summner and Winter Solstice".
During these rituals an Human Infant is killed and sacrificed to Satan (Baphemet-the Goat Headed Demon),
and the Satanist drink the blood of the Infant Human they sacrifice, and Baphemet appears before them and goes out to kill the enemies of those satanist who perform this Human Sacrifice.
I am a Nationaly know Federal Whistleblower:
I currently have a Federal Grand Jury Demand filed in Las Vegas, Nevada US District Court Sept 2001. Case Number CV-S-01-0714-PMP-PAL soon to be appealed.
This case filing states I can prove The Bush Crime Family Stole 1 trillion Dollars from America.
Most of my exposure of corruption has centered around the BUSH CRIME FAMILY and "THE DENVER CONNECTION ". Involving Leonard Yale Millman, Phil Winn, Larry Mizel, Norman Phillip Brownstein, James M. Lyons, Neil Bush, Terry Constedine, Fredrico Pena, Wellington Webb, and other Criminals involving the scandals below.
Which has included the following:
1. 1989 HUD Housing and Urban Development Scandal
2. The Savings and Loan Scandals (Silverado and Lincoln Savings)
3. The Denver International Airport Scandal and it's secret underground base.
4. The MDC Holdings-Denver 200---Keating 5 Scandal
5. Iraq Gate/BNL Bank/ Gulf War Syndrom Scandal
6. The Oklahoma Bombing (CIA Involvement)
7. Iran-Contra Drug Money Laundering Mena Ark. to Denver Colorado. (M & L Business Machines Co)
8. Whitewater Development (Involving James Lyons, Bill and Hillary Clinton)
9. Blackmail of Congressman and Senators (The Boulder Properties Scandal, Media By Pass Magazine Dec 1999 and May 2000 aka "Bush Crime Family parts 1 & 2)
(All the above "The Denver Connection" to The Bush Crime Family, Leonard Yale Millman-King-Pin).
10. The Tiffany Lamp Meetings--Human Sacrifice in Sedalia Colorado at the Kimball Castle
(Summer and Winter Solstice) June 22nd and December 21st, Involving the following known persons:
George Herbert Walker Bush (Former CIA Director, Former Pres. USA)
George W. Bush (President of USA)
Jeb Bush (Governor Florida)
Leonard Yale Millman (Bush Crime Family "The Denver Connection"--Kingpin-Money Launderer)
George Shultz (Former Secretary of State USA)
Henry Kissinger aka Hennie Kissinger (Former Secretary of State and NSA USA)
Lawrence Rockefeller (Banker New York)
Carl Lindar (Bush Crime Family "The Ohio Connection"--Kingpin-Money Launderer)
David Rockelfeller (Banker NY)
And many other Knight's Templars who worship Baphemet and are Part of the "Tiffany Lamp Meetings Group"
This group is known as the USA "Shadow Government with in the Government". Leaders who dictate USA World Policy, that are known Satanists.
During these meetings a Human Infant is abducted from usualy a hospital in the surrounding area.
And sarificed to Satan (Baphomet) as part of these sick pycos rituals.
A report of these events was given to the FBI-Denver Field Office on November 20th, 2001,
stateing the above and that a murder of a child (infant) would take place, and that this Satanic murder, would involve the above named persons.
YOUR USA FBI WILL DO NOTHING TO PREVENT THIS MURDER OF A CHILD BY THESE MEN.
Please take videos to this location, The Kimball Castell in Sedalia, Colorado, (Sedalia is south of Denver at the Castellrock exit and west to Wadsworth then north 1/2 mile on the east side).
Further after these Satanists do their murder, you will normaly find them at the "Cherry Creek Country " playing Golf.
They further are known to stay at the Brown Palace Hotel Downtown Denver.
They further are known to Party at Leonard Yale Millmans home and office at 2400 Cherry Creek Dr. North (University and Cherry Creek Drive).
This is one of the Indictments for murders, (Human Sacrifices) I entend on bringing before a US Federal Grand Jury.
If you may have any questions, please do not hesitate in calling me.
Thank You
Stew Webb
Federal Whistleblower
stewwebb@sierranv.net
(702) 362-9567
Foot note:
One of these Satanist, Leonard Yale Millman appears in what is know as the Bible Code
the software can be found on www.KathleenKeating.com.
It states as follows:
Leo Millman: Inversion, reverse, Solstice, Contrast, Verso, Contrary.
For more on the Kimball Castle click here
**********************************************************
Did the Bush Family Attend an Illuminati Ritual this Weekend?
by James Whisler
June-3-01
More and more people are regularly catching on to the satanic nature and power of the Bush Family. George Bush Sr. is an Illuminati kingpin and his family's bloodline is descended from several of the top Illuminati bloodlines, including the Merovingians, the Tafts and the Wheelers among others. Mind control programming is carried out on all offspring so that total control and complete secrecy are maintained. George Bush Senior is known to be an adept at trauma-based mind control programming. He had raped former mind controlled sex slave Cathy O'Brien and her daughter many times. In her autobiography TranceFormation of America, Cathy describes in detail some of the less torturous programming sessions she was forced to undergo with Bush Sr. Here's part of one such programming session.
I was then quickly taken to Bush's Residence Office, where here-to-fore was unfamiliar to me. Although it had slate blue, plush carpets and fine furnishings like the White House office, lattice work and smaller rooms provided a different air. I sat in a hard-back wooden chair as ordered, while Bush carefully positioned himself in front of me on a little wooden footstool. This allowed me clear visibility of the Large book that he held in his lap. All illustrations faced me, while all text except the last page was printed in the holder's direction. This book was a unique, high tech piece of art specifically designed to enforce Bush's favorite method of programming, "You Are What You Read". The juvenile face depicted on the front of this hardcover book gave it the appearance of a children's storybook. It was entitled About Faces.
Bush explained the dynamics of "changing faces" and "becoming what I read". Although I had been conditioned to this idea all of my life through Disney stories, The Wizard of Oz, Alice in Wonderland, etc., I was not prepared for Bush's version of "You Are What You Read" programming explanations. The illustrations themselves were elaborate, consisting of mirrors and hypnotic depictions. He seemingly made the book come alive in my mind as he read page after poetic page of hypnotic, metaphorical language, all the while creating powerful illusions. His impersonations of the characters further enhanced the desired affect of fantasy becoming reality...
(Mark Phillips and Cathy O'Brien, TranceFormation of America, Reality Marketing, Inc., Las Vegas, NV; 1995, pp.164,165
Bush reading to grandchildren at Camp David during Christmastime in 1992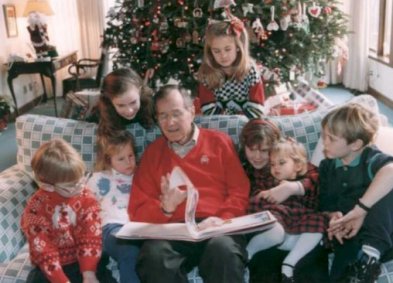 <![if !supportEmptyParas]> <![endif]>
Bush Sr. has taken an active role in the programming of his grandchildren, especially his twin granddaughters Barbara and Jenna, who spent time each summer with him and their grandmother Barbara in their home in Kennebunkport, Maine and in Camp David, during his presidency. Camp David, Maryland serves as an ideal location to carry out mind control programming due to its very secluded off-limits compound accessible only to the president and whoever he invites. Bush himself displays characteristics of mind control, being described by his biographers as having a highly compartmentalized personality (http://www.americanpresident.org/KoTrain/Courses/GB/GB_Family_Life.htm ) which is an excellent way to describe a programmed person with multiple personality disorder. Its also interesting to note that Bush Jr. made a decision for Christ after receiving 'counseling' from 33rd degree freemason Billy Graham at his father's house in Maine.
Illuminati mind control begins before birth for the poor victim. In many cases, induced premature birth is applied because it is traumatic to the child. Springmeier and Wheeler report in Volume II:
A premature birth is important because the naturally occurring events around a premature birth insure that the child is naturally traumatized....A premature birth will create a fighter spirit within the child. If the child does not have a strong instinct for survival, and does not fight to survive the premature birth, then it will not fight to survive during the tortures of the programming. By having a premature birth, the selection process has already started....The soothing voice of the programmer is said and heard in hypnotic tones. The hypnotic voice of the programmer is taking advantage of the dissociative trance-like state of the child in pain. The hypnotic voice is grooming the child from the womb. Hypnotic cues are placed into the child's mind even at this young age. Hypnotic cues use all the senses. In reality, the programmers are even hypnotizing the little babies....Babies have been taken by induced labor or C-Section at premature ages intentionally to insure that the baby will suffer trauma. When the premature baby leaves the comfort of the womb it experiences trauma. By taking the baby prematurely, it also gives the programmers an advanced start on the programming....
(Fritz Springmeier and Cisco Wheeler,

The Illuminati Formula, Oregon City, OR; 1996, pp.21-24)
*****************************************
      

Bush twins trying to avoid spotlight       
       ( http://www.usatoday.com/news/e98/e1877.htm)
        ... When Gov. Bush decided to run for president, he and his wife Laura asked their daughters how involved in the campaign they wanted to be. Not much, they decided.
        ''It's an informed decision on the girls' part,'' said Andrew Malcolm, Mrs. Bush's spokesman They've had plenty of exposure to politics and campaigning - from the very beginning.
        Born prematurely on Nov. 25, 1981, the fraternal twins were named for their grandmothers...
      (emphasis mine)
*****************************************
Presently, the Bush twins are 19 years old; and in the Illuminati hierarchical structure they are being trained/programmed to become "Mothers of Darkness". A "

Sealing Ritual"  is required for females in the satanic bloodlines at age 19.
An Illuminati multiple will carry on ritual functions at a number of different levels in the occult. There will be different alters for different levels and different ritual dates. The back part of a hierarchy system will not be worked until a sealing ceremony involving Egyptian magic at the age of 19 in late Apr.-May...
Between age 16 and 19 the deep Satanic alters are working on "pathworking." This pathworking will be completed before they are 19. The ceremony at 19 will include the 1,000 points of light ceremony at the super secret Mother-of-Darkness castle of Chateau des Arnerois (Castle of Kings) close to the Belgium-French border in Europe and about 20 kilometers as the crow flies west from Luxemburg. This will be a sealing ceremony with the Mothers dressed in black. Guards and heavy forest protect the large castle from view. The people in the nearby spooky village of Muno, Bel. basically belong to the castle. The castle has a cathedral inside with a dome with 1,000 lights. The words 1,000 lights is an Illuminati buzz word. When the President used it to describe the White House's Christmas tree, hierarchy people knew what he was signalling. The cathedral has a great hall with columns on either side, and the Queen Mother's throne will be set up there....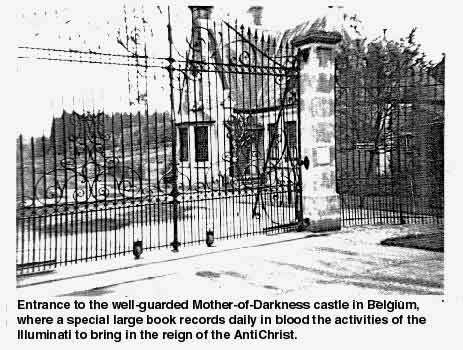 (Springmeier and Wheeler,

Volume II, pp. 204,213) 
According to Luciferian tradition, Jenna and Barbara Bush should have been flown to Belgium by their parents to take part in their Mothers of Darkness 'Sealing Ritual' on schedule. The optimum date would be around May 1, the satanic holiday of Beltaine. They were, however still attending college at the time (Jenna in Texas and Barbara at Yale). This event would therefore have to be postponed to approximately one month later. Great detail is put into all Illuminati plans to avoid exposure and make things look natural. A full proof cover story is always given. Read the news release below:
***********************************************************
Bush Spending Weekend With Family at Retreat
From Times Wire Reports
June 2, 2001
    
 President Bush flew to the Camp David, Md., presidential retreat for a weekend with his parents and his twin daughters, who were cited this week for allegedly violating Texas alcoholic beverage laws. The White House said it was a long-scheduled family get-together.
     Bush spent part of the day in Boston at the funeral of Rep. John Joseph Moakley (D-Mass.). He was accompanied by his parents--the former president and former First Lady Barbara Bush. On returning to Washington, they flew to Maryland.
     The twins, Jenna and Barbara, 19, were to join the family for the rededication of a Camp David chapel.
     Jenna was cited in Austin, Texas, on Thursday for allegedly attempting to buy alcohol with false identification, and her sister was cited for being a minor allegedly in possession of alcohol.
*************************************************
(Evergreen Chapel at Camp David)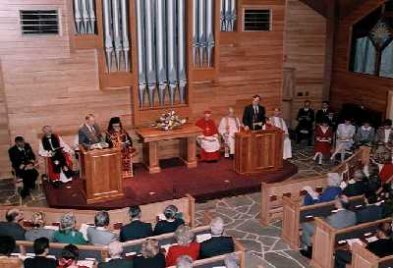 It's interesting that this was a "long scheduled family get-together" all for the supposed purpose of rededicating a chapel out in the middle of nowhere. Why weren't any of Bush Sr.'s other children or his 12 other grandchildren invited to this rededication of the evergreen chapel? This "rededication" plan went into effect on June 1st.
June 1st
Celtic: Festival of the Oak Nymph - celebrated to honor all hamadryads (female natures spirits who inhabit oak trees). This being a druid holiday of symbolic programming significance for mothers of darkness, it works well for timing of a sealing ritual. It is also close to the full moon which they would consider advantageous. A curious note that might seem innocuous about the Camp David compound is that all the cabins there are named after different types of trees, like the oak, poplar, cedar, maple etc. There is much mind control programming based on different trees structured in the mind. The names of these cabins serve as subconscious reinforcement cues for M/C victims.  
Alters of an Illuminati System, due to programming, will perceive a tree growing in them which has roots in their feet and its trunk and branches extending throughout their body. Upon this tree, fruit (programs) are placed....A tree is used because of its imagery and because of its magical powers according to Druidism. There are a number of images a tree provides and there are a number of magical powers too. We will discuss the contrasts to develop our answer. The oak is a well-known powerful Druid item, but the willow tree is also sacred. The oak is so well-connected to the Druids that some of the other sacred trees of the Druids are not quickly recognized as sacred....
(Springmeier and Wheeler, Volume II, p.215)
 To the best of my knowledge, President Bush could not be reached to comment on any world events over the weekend (June 1-3). Instead, the news agencies contacted Colin Powell to comment on the horrific bombing at the Tel Aviv discotheque and the middle east situation. I believe they may have briefly stopped off at Camp David friday and then directly headed to Europe for the Mothers of Darkness  ritual.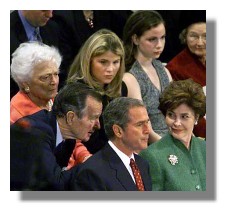 What should be done? In my opinion, the Bush girls Jenna and Barbara should be prayed for. That it comes to the forefront of their minds what's being done to them. They would almost certainly have multiple personality disorder, and their front alters would be totally unaware of the ritual programming. I pray that they may resist their programming and that the Lord will deliver them and open their eyes to what they are a part of. We should pray also that the eyes of American Christians will be opened to the true nature of the Bush Dynasty and not be deceived by them...J.E.Whisler
<![if !supportEmptyParas]> <![endif]>
======================================
Bush's Tiddlywinks
By Fritz Springmeier
June 9, 2001
Some people may disagree with my information. That is their choice, but I hope that even if they disagree with me, that my words will encourage readers to become better critical thinkers toward the establishment media's pure propaganda. From insiders, I am aware that George Bush senior has a look alike, which they used during his presidency to allow him to escape off the record from his appointments. This look-alike liked sex, but was not a pedophile, so this double of Bush was rather uneasy when he heard reports that the real President, who he pretended on occasions to be, was a pedophile. By the way, George Bush, Sr. likes to get his picture taken with kids on his lap, as if he is almost a Christ figure that kids love. An example of this was in the Scottish Rite's Journal. It's enough to make me want to puke knowing he is addicted to pedophilia.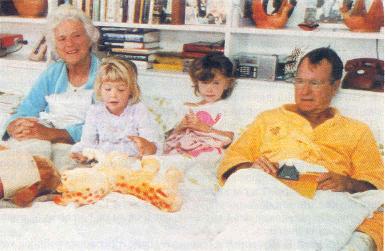 The first night that George Bush, Sr. was in the White House (1/20/89) as President, he was reported "lost…trying to find a couple of kid's rooms." (Weekly Compilation of Presidential Documents, 1/24/89) George Bush, Sr. as President had a routine of going to Camp David for his weekends. The Christian Science Monitor reported early in his presidency that he played tiddlywinks at Camp David to relax. My reaction to the tiddlywinks' reports by the establishment media is this: "Do they think we are that gullible? These elitists must get a big laugh at the common person's gullibility." The President went to the seclusion of Camp David almost every weekend so he could play tiddlywinks, yeah right! On day 16 of his Presidency, Bush went to Camp David. When the next weekend came around, many of Bush's appointments were still unfilled and Bush was quoted in the NYT as saying "I'd like to see if we can't speed the system [of appointments] up." Two weeks later at Camp David, the President tells a NY Times reporter, "I'm an Oyster Bay kind of guy. Maybe I'll turn out to be Teddy Roosevelt." Easter weekend, Saturday, 3/25/99, finds Bush at Camp David with Country singer Lee Greenwood.
Lee Greenwood is part of the normal Nashville Country music crowd, which I have exposed repeatedly, even if he does sing "God Bless America" to George Bush. On May 26, 89, George Bush, Sr. went to Europe, where he stops at Italy and spends time with the Pope, and then heads for Brussels. On June 2, '89, he leaves Europe and heads for Kennebunkport, ME to vacation. Why does Bush spend a day visiting the Pope and two days in Brussels?  Of all the major European cities, why so much emphasis on Brussels?  If one believes in a globalist agenda for a New World Order, the Pope and Brussels are very important. Otherwise one has to wonder of all the real statesmen and real capitals Bush could visit, why the Pope and Brussels?
As Bush's presidency passed the 200-day mark, his weekend visits to Camp David continued on their established routine.  He also continued as well the occasional vacations to Maine. He established this routine from the start of his presidency. His vacation on Thurs. August 17, 1989, merits a look. On Friday he was reported playing horseshoes, Saturday he was boating, Sunday (8/20/89) it was golf, the next day cribbage, the next day was softball, the next day (Weds. 8/23) was tennis, the next day was jogging, and on Friday we are told he was running, golfing, playing softball, tennis, and boating. (If he actually did this Friday, he had an active day for a 65 year old man.) The next day Sat. 8/26/89 was reportedly spent fishing, and then on Sunday he reportedly cancelled his golf to fish again. On Monday (8/28), he was reported fishing again.  My question is, what really happened on these days? For those who want to track the Illuminati, they have a great Fire Festival Sabbat on August 24. Isis, Hecate and Diana are also worshipped in August, as well as the Assumption of the Mary Goddess on August 15.
 I don't know if Bush was participating in the Illuminati's great August 24th ritual.  However, I do have a real hard time believing the establishment media's stories of two weeks of horse shoes, jogging, softball, tennis, etc. My question is what really went on during this vacation time? For all of our illusions about close scrutiny, our Presidents pretty much do what they want, and we the people really don't have a good or accurate idea of what they do. Like our government in general, accountability is being lost. Insiders talk about how government leaders can slip nefarious activities into their schedules, so that (seemingly) even above board accounts of their daily activities can hide a great deal. While Clinton was on the phone to a Senator, his pants were down and Monica Lewinsky was on her knees.
 Personally my conscience would bother me taking off for long holidays if the fate of millions of Americans were controlled by my leadership. I know that the companies I have worked for, and the military did not permit me to goof off like this. In 1991, how inspiring was it for American soldiers, who were sent to bake and possibly die in 115 degree plus desert conditions, when they saw their Commander-in-chief Bush making decisions from the golf course on the course of the Gulf War?  Still, I'm not convinced Bush was playing tiddlywinks all the times the press tells us he was.  Either way, over the many decades, rear echelon leaders have earned the acronym used by American grunts during several wars "REMFs". Was George Bush, Sr. really playing tiddlywinks like the establishment media kept reporting, (telling us such news scoops as his mother was a great tiddlywinks player that really challenged him), or was something else going on?  And if something else was going on, why all the secrecy?
 One of George Bush, Sr.'s first acts as President was an executive decree that limited disclosures of his activities while he was Vice President (see LA Times, 1/29/89). There were certainly things that happened while Bush was Vice President that would be embarrassing to him, for instance, when CIA agent Richard Brenneke called Vice-president Bush's chief of staff about finding cocaine in boxes shipped through Mena, and was warned to mind his own business. When Bill Clinton became President he began fighting to have the White House computer tapes from the Bush-Reagan years destroyed. On Sat. June 9, 2001, (the very day I write this) the NY Times reported that the new president George Bush, Jr. is delaying the release of thousands of pages of presidential records that by law were to have been released on Jan. 21 under the Presidential Records Act. These records by law were to be released after 12 years. His father was Vice-president during the time of these records. So again I ask, why all the lies and secrecy if what these leaders do is legitimate? What do we really know about what our Presidents do, and who they are?
Related/similar info:
Presidential records put under gag order
Eyes Wide Shut: Occult Entertainment by Uri Dowbenko
'From Hell': Masonic Ritual Murders a/k/a "Jack the Ripper" by Uri Dowbenko

Photo of Bush during the Kuwaiti crisis. "Golf War" anyone?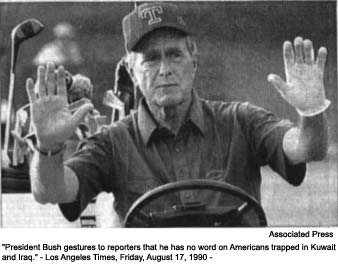 <![if !supportEmptyParas]> <![endif]>
<![if !supportEmptyParas]> <![endif]>
<![if !supportEmptyParas]> <![endif]>
<![if !supportEmptyParas]> <![endif]>